APFC Panel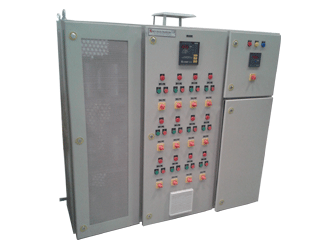 We also manufacture the Automatic Power Factor Control Panel which will use for the improvement in the power factor. In this panel we use the capacitors to increase the power factor of the system.
Sun Tech Engineers are leading APFC/Thyrister panel manufacturer in India. We are pioneers in this field and our clients choose us for the unmatched quality and durability of our products.
APFC Panel or Automatic Power Factor Control Panel is used to improve the power factor with the help of capacitors. We can define power factor as the ratio of active power to apparent power. Power factor is helpful in tracking the overall electrical unit consumption. In this way, it helps in reducing the expenditure on electricity since it tracks the amount of electricity used.
APFC Panels have many advantages –
Higher efficiency
Provide protective shield to the electrical equipment from excessive power flow and other factors
Helps in minimizing harmonic current
APFC Panels are used in various devices like windmills, process controllers, electrical installations, microprocessors, LT & HT factories etc. As it is said, precaution is better than cure. Buy APFC panels from us and secure your electrical appliances in case of any mishappenings. We are the best APFC panel manufacturer in the country and we will not disappoint you with our product quality.