Marshalling Box
(RTCC / COOLER CONTROL CABINATE / FOC )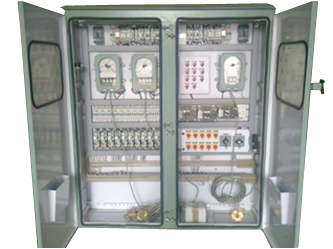 Sheet steel enclosed outdoor type with canopy complete with clip/stud type terminals and dully wired for connection to the required equipped through bottom cable entry arrangement, painted as in item no-1 as above.
Sun Tech Engineers bring you top of the class Marshalling or Junction box. The Marshalling box is the master control panel for protection devices. This panel comes with a see-through glass door to allow easy visibility of the instruments and their readings. The panel is situated next to the transformer. It contains OTI or oil temperature indicator, WTI or winding temperature indicator, heater switch, pump control switch, Fan Cooler Control, mcb, and contractors. These panels are used in substation switchyards provided with Terminal Blocks to which control cables are connected.
The Panels have been tested as per IS and IEC Standards at ERDA, Vadodara for IP-55, 56, 65 Ingress level in M.S, Aluminium & S.S material.
We are manufacturing Job upto 500MVA 765KV. And also we are approved in Power Grid Corporation India Limited (PGCIL) upto 765KV.
We are the renowned manufacturers of marshaling boxes and have put in our continuous efforts to supply superior quality boxes using optimum raw materials. We are not only engaged in designing the panels with excellent functionality but also strive continuously to make it low maintenance to save our customers time and efforts. Some of the main features of our marshalling boxes which have given us huge clientele are:
High-quality raw material
Hassle-free work performance
Ventilation facility
Protection against insect entry